Last updated on May 2, 2016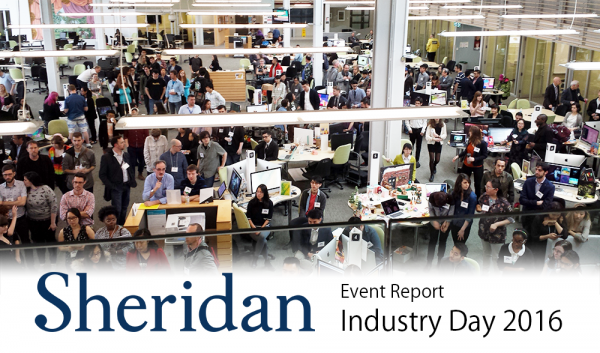 Yesterday (April 28, 2016) was Sheridan's annual industry day. The attendance from studios was high and there still seemed a lot of positions needed to be filled so it looks like it's going to be another good year for the graduates.
The morning started with screening of Sheridan's Computer Animation post graduate program students. Films from Computer animation program were short and sweet. It is difficult to judge a lot of these shorts as being entertaining or engaging 'films' but the format served well to show the strength of the student's abilities.
The Visual Effects program reel remains as impressive as ever. Showing various movie magic such as buildings collapsing, tracking CG element onto a live footage and putting stuff in green screens seamlessly. Every student in the program seem to know what they are doing.
The shorts from Digital Character program overall felt much weaker than the Computer Animation program mostly due to students were too ambitious to tell more lengthy and complex story without fully understanding that aspect of the art form. I focused heavily on the character acting and movement since the program is called "Digital Character" yet the amount of basic animation principle and posing were lacking. The amount of subtlety required to make the CG characters believable were mostly absent as well. It would have been better if the students kept the story simple and in one location and focused on making the physicality of characters believable. I made a similar comment on last year's industry day.
That being said, here are couple of shorts that stood out to me. These were visually appealing, technically sound and did a good job at getting stories across without overstaying the welcome.
Plan Big by Lisa Xiang Jiang
Upir by Charlit Floriano
A Christmas Surprise by Hyunmi Choi
The Good Rover by Nan Guo
Cohoba by Daniel Rosario
Moving onto Sheridan's Animation program screening. Right off the bat, I must say, the screening portion of this year's program was wildly disappointing compared to last year's mind blowing one. Now that doesn't mean the students weren't good, in fact this year's graduates were just as great as last year's.
I should briefly set this up for me to paint a clear picture. In the animation program, the students are able to make their film however long they want. However, there is one minute length limit per student in the screening so the total screening is kept around 2 hours instead of 4-5. Last year, It felt like the majority of students planned the film toward that one minute limitation. The films had beginning, middle and end and since the film was shorter, the students had more time to polish and complete their film.
This year the screening experience was quite the opposite. First of all, there were a lot of incomplete films. Second, there were severe lack of polish on some of the completed films. Lastly, there were lots and lots of trailers. Now, the last part isn't necessarily fault of the students. A lot of students this year made films that ran over one minute long which meant they had to keep the good stuff in that short amount of time. This works very well as a showreel which brings potential employers to the table and it's probably a smart way to go and there were number of absolutely gorgeous trailers.
Here are several of films that stood out to me.
Beauty by Alice Lemma
Wanted by Coco Cheung
Restless by Christine Huh
Brock & Dylan: SUPERCOPS by Brock Curry
Flicker by Rebecca McVeigh
Crowskeep by Katherine de Vries
Jella Fantasia by Soo Kim
KINGS OF NOWHERE by Soroush Barazesh
VEGGIEMANCER by Justin Chan
HoloHome by Andre Boulet
Blue by Jason McLean
Tea Time With Dragons by Josh Wald
The show floor was great. Despite what impression I got from the screening, there is no doubt there are quite a lot of talent from this year's graduate. I knew number of these grads through social media in the past so it was great see them graduate and ready to kick butt in the industry.
Now, for next year's graduates, I urge you to not be too ambitious with your films. Think about the time constraint and your own strength and weaknesses. Having strong reel and trailer is great for getting jobs but since you have a whole school year to make a film, be sure to take advantage of it. Having a completed film is a great asset to have and I feel it's the entire reason the animated industry exists. See if you can make your film run around in one minute length. It will give you more time to make make dense and visually rich film and force you to cut the aspects of story you don't need. It will also keep the timing in your editing tight and professional.
And those who want to tell good 2-3 minute story, make sure you complete it and think about how you'll craft the one minute screening cut for the industry day. I personally like seeing first solid one minute without any cuts and edits so I can get a sense of your editing style and how you set the story. If the intro of the story is engaging and impressive, you'd be sure to attract people to your table. On some trailer-esque shorts, I had hard time knowing if the editing was erratic because of the one min limit or if it was just poor film making.
Good luck to the new graduates and I can't wait to see more from you fine lads in the future.
Thanks!
-Kyu