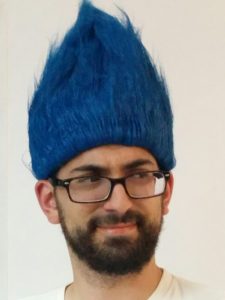 This year was the Ottawa International Animation Festival's 40th anniversary, which meant that I had to find a way to get up to Ottawa from Toronto and watch some beautiful works of animation done by some kooky filmmakers.
As always, it's not easy to catch every single screening since there are so many events and things to do, but here are the highlights of my OIAF experience.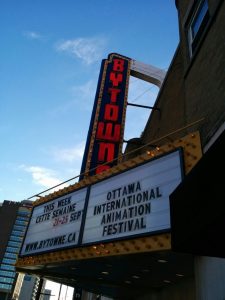 Out of the retrospectives and special screenings for the 40th anniversary, I got to see the Wallace & Gromit short The Wrong Trousers on the big screen as part of the Grand Prize Winners screenings. This was super exciting and satisfying even though I've seen the short many times before. It was as magical as the first time I saw it. It's still brilliantly funny and clever and of course, well animated.
In the same screening were also Igor Kovalyov's Bird in the Window and Priit Pärn's The Night of the Carrots, both of which I loved and found to be extremely inspiring. The visual style and bizarre nonsensical humour stood the test of time – still great roughly 20 years after they were made.

Space Madness was another special screening. This one included a trippy short by the talented musician and animator Chad Vangaalen as well as the mindblowing feature length film Nova Seed that was traditionally animated and directed by Nick DiLiberto over the course of four labour intensive years.

Out of the short films in competition that I got to see, I enjoyed Felipe Di Poi's Talking Cure, Dave Cooper's The Absence of Eddie Table, Marta Magnuska's Foreign Body, and Jan Saska's Happy End. It was great seeing Dave Cooper's brilliant designs brought to life in delicious 3D in Eddie Table.

Disney also had a screening and Making of their new short Inner Workings. The short was directed by Leo Matsuda, whose work I've greatly admired for several years now. And it was good to see him talk about the process of making the film, and wanting to push the designs to a more exaggerated realm. The short will play in theatres with Moana.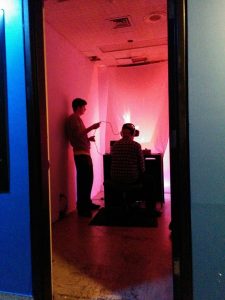 Other than the shorts and special screenings, this year, there were also four films playing in virtual reality. The VR films were being shown in separate rooms where you got to disconnect from the regular festival experience and surround yourself with colours and sounds and no audience other than yourself.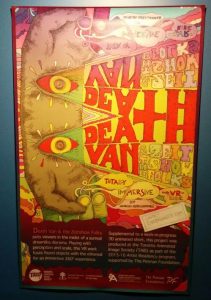 Out of the four, I particularly liked the off-beat Death Van & the Zeitshow Folks film by Michael Enzbrunner and Helge Henning which was presented by TAIS. From what I gather it's only a part of a longer film that is still a work in progress. But regardless, I loved it. It felt like I was floating through a jam session between a one eyed monster with a colourful guitar and a human on the drums. The piece was a continuous loop, which upon second viewing allowed me to explore different parts of its surreal surroundings and find other bizarre yet subtle elements, like tiny dancing monsters. It somewhat reminded me of Bruce Bickford's work as well as videos by the band The Residents.
The crowd pleasing Google Spotlight film Pearl was a heartwarming slice of life that gathered quite a long lineup. But it was worth it. I found that the VR experience, as intended, really helped form an emotional connection between the characters and the viewer.
I feel like the next step in virtual reality technology might as well be a combination with sensory deprivation flotation tanks. But anyway, that's all folks.