I like this. It's got a bunch of awesome people, including a whole whack of Canadians, so I'm sharing. If you can support them, please do. This is the kind of discussion and documenting we always need more of.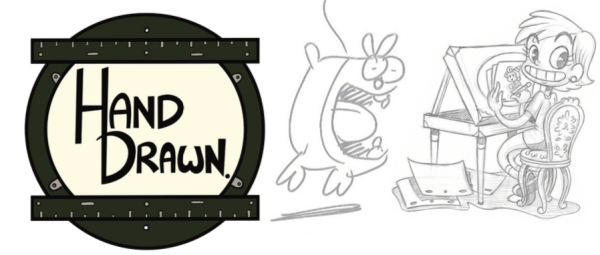 HAND DRAWN – A feature documentary all about 2D hand-drawn animation, its current state, and its future, as told by the animators keeping the art form alive.
HAND DRAWN Official Trailer from Hand Drawn Film on Vimeo.
Hand Drawn now on Indiegogo – October 21 to November 25, 2018: Our Indiegogo campaign is in support of this exciting new feature length lm about the 2D hand-drawn animated art form.
https://www.indiegogo.com/projects/hand-drawn-feature-film#/
The creators of Hand Drawn are a family team of filmmakers, with Felicity Morland (Director), her husband Aidan Fantinatto (Associate Producer), and produced by Robert Fantinatto (Director of "I Dream Of Wires"). With our combined experience we are creating this definitive documentary which focuses on the state of today's 2D frame by frame hand-drawn animation, as told by a variety of veteran and upcoming animators. Their experiences give viewers an inside look into the world of hand-drawn animation and its resurgence.
The film examines what continues to draw many of us to this medium as we focus on the connections between animator and animation, delving into why 2D animation still resonates with audiences and creators. Hand Drawn discovers the persistence of this foundational art form, surviving through new styles and approaches, in efforts from independent animators to mainstream studios.
Featuring Jorge R. Gutierrez, Eric Goldberg, Nancy Beiman, Bill Plympton and many other hand-drawn animators from all different corners of the industry, we are in a very unique position of highlighting several animators together in one production. These creators open up when they speak about their passion for the craft, leading to inspiring stories and insights, as well as some solemn thoughts and moments.
In a 3D animation dominated landscape, Hand Drawn captures 2D hand-drawn animation's endurance through projects like the 1930s cartoon style video game "CUPHEAD" and the upcoming movie "KLAUS", along with exclusive access to never-before-seen animation demonstrations and some first-time animator interviews. Hand Drawn explores traditional classic styles as well as cartoons, anime, anime-inspired styles, and more.
As animators gain more creative control to develop full 2D animation with crowdfunding and streaming services like Netfix, this is a important chapter in hand-drawn animation history.
We are currently turning to Indiegogo – a direct link to animation creators, admirers and fans – to help us work on this remarkable documentary, October 21 to November 25.
Confirmed Participants include:
Eric Goldberg
Nancy Beiman ("FANTASIA 2000", "HERCULES")
Bill Plympton
Jorge R. Gutierrez (Director of the award winning "THE BOOK OF LIFE")
Chris Burns ("BREADWINNERS", "FLEX CALIBUR")
Aaron Blaise
Tina Nawrocki ("CUPHEAD")
Toniko Pantoja (Dreamworks Feature Animation, Tonko House)
Samantha Youssef ("ENCHANTED", "THE PRINCESS AND THE FROG")
Nico Colaleo (Creator of Dreamworks TV hand-drawn animated series "TOO LOUD")
Vivienne Medrano (Crowdfunded series "HAZBIN HOTEL")
Brian Kesinger…and many more to come.Indiegogo prizes include:
Studio Technique's Movement & Form: Volume 1 signed by Samantha Youssef
Feature your hand-drawn animation in the credits
Contest entry: Submit your hand-drawn animation to be featured within the lm
2D hand-drawn Animated Portrait of you
10" x 10" signed Cuphead-style Tina Nawrocki artwork prints…and more!