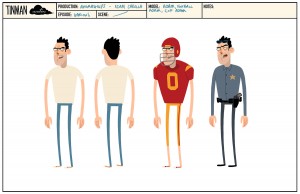 I'm a big fan of the guys at Tinman Creative. First of all, Morghan and Brett are two of the nicest people in this business, and secondly, every time they send me something, it's pretty great.
The latest something is a series of shorts they're doing featuring Adam Carolla.
Here's what they have to say for themselves:
Tinman Creative Studios has teamed up with the Video Podcast Network to produce a series of animated shorts based on podcasts by Adam Carolla and various guests.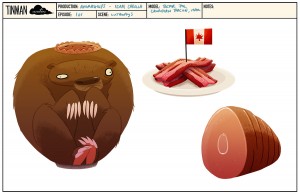 The series, designed by Brett Jubinville and animated by Noam Sussman, is a combination of frame by frame animation and digitally painted 'cutaway gags'.
Director, Brett Jubinville has been a fan of Adam Carolla since his days on "Lovelines with Dr. Drew", so Tinman was thrilled to get the chance to bring his podcasts to life.  "Carolla's comedic timing and delivery lends itself well to the animated me
dium" says Jubinville, "His anecdotes are so visual that you rea
lly can't help but put them to animation".
They sent me a bunch of designs, which I'll happily share, since they're sweet.
Episode 1 "Bear Pie"

Episode 2 "Raccoon Whisperer"

Episode 3 "Drunk Lincoln"