Last updated on August 18, 2010
228 years ago this month – history was made.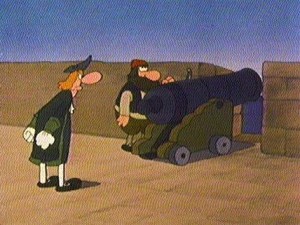 That's right, in August of  1782, Fort Prince of Wales was taken by the French. Thanks to the eminently talented Winnipeg animation vet Brad Caslor, we can remember this historic event. From the NFB 'Canada Vignettes' series, 1978 – 'Fort  Prince of Wales'
The fact that it's worth a laugh is a testament to the skills that he honed on Sesame Street shorts early in the 70s at the advertising company Perkins and Associates in Winnipeg, and later at his own company, the Credo Group (read a bit about them in this 1978 Cinema Canada article), which was contracted by the Winnipeg NFB to do three animated vignettes. In doing so, Caslor and crew made these dull narrations entertaining and funny.
Those keen on this sort of thing will know that Brad Caslor also wrote, directed & animated the vignette 'Spence's Republic', a hilarious take on a pretty funny historic 'rebellion' that was quashed by a couple of drunken mounties. And you thought history was dull. From The Manitoba Historical Society:
"McPherson was charged with treason to the Republic, a warrant was issued for his arrest and two constables sent out to bring him back to trial. But the two constables who set out in the performance of their duties were quite drunk when they approached McPherson's home. Having been warned by their noise and their singing, McPherson was sitting in his home cleaning his revolver when the two arrived." (ref)
Here's 'Spence's Republic' as written, boarded and animated by Brad Caslor, also in 1978, a busy year:
Unfortunately, I wasn't able to find a copy of Credo Group's next film 'Blowhard' (1978) to post for you here. That film, made right after the 'Vignettes' series (or possibly in production simultaneously with the 'Vignettes'), is a directing collaboration between Caslor and his compatriot Winnipeg animator Chris Hinton for NFB's Renewable Society series. The scathing POV on 'Central Canada' as seen from the Prairies is evident and hilarious. Even though it's made in 1978, it's renewable energy message still sadly relevant today. I did find a version posted elsewhere, so go check it out: 'BLOWHARD' (1978).
And – here's the 1985 Genie winner 'Get A Job'! This masterpiece of cartoon parody took Caslor six years to complete. Originally intended to be an introductory film for Canada Manpower's re-training programs, it had a conservative approach as the Prairie NFB producer was hoping to pander for federal money to complete the film. Once the feds backed out, Caslor was let off the chain and they got this wonderful goof-fest of an educational film instead. If I was in an unemployment office looking for work, I'd have loved to be told to watch this as part of the re-training process! Interesting to note that the J-Tel ad spoofs what Mr. Caslor did for years – toil away on K-Tel Record spots for television. Puzzingly, one of the most entertaining shorts the NFB has isn't available on their site. So here it is!
After completing this backbreaking film, he was rumoured to have had it with animation and all of the accompanying hassles, so he split the scene for live-action boards and editing. Definitely Canadian animation's loss. Astute readers will be able to spot his name in some more NFB animation credits, however, including Marv Newland's 'Anijam' (1984) – where Brad animated an explosive segment – and most recently Cordell Barker's 2009 film, 'Runaway', as special thanks. Brad Caslor's company Credo Group has gone on to be one of the prairies' largest live-action television & film production companies.
As a postscript – Decades ago, Brad's also drawn and written what some consider to be a classic subversive comic in 1972 – predating 'The Watchman's storyline by 12 years or so! Alan Moore ain't so original. You can read that fanzine comic on the legendary Hembeck's great site – but first get your background on it's impact HERE, then read the story: 'Massacre Of The Innocents'
He also drew this hilarious safety comic on behalf of the Manitoba Labour Office of the Fire Commisioner and…Esso?!: 'Nerd & Ashcan – On The Farm' (scroll halfway down). I think Mr.Caslor was in on the joke.
Since then, according to IMDB, Brad Caslor has been associated with a large number of television and live-action productions, some slated for release this year.
And, Mr. Caslor, should you be reading this – thank you!